"Archeologowie przebadali grób Piusa I(..) To co znaleźli w środku sugeruje, że Jezus nigdy nie istniał."- Guzik prawda.
Grób pierwszego papieża znaleziony na portalu Historykon
Na portalu Historykon zamieszczony został artykuł Marcina Majchrzaka pt. Czy Jezus istniał naprawdę? Przebadano grób pierwszego papieża w historii (link). Publikacja tego rodzaju materiału przez portal, który zdaniem swoich autorów powstał "jako strona na portalu społecznościowym, której zadaniem było promowanie nauki, jaką jest historia", jest samo w sobie skandalem. Zacznijmy od tego, że pierwsza bzdura znalazła się już w samym tytule rzeczonego tekstu.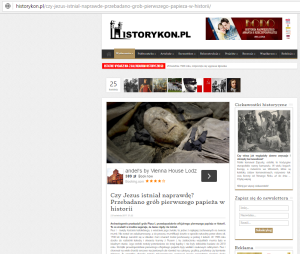 Po clickbaitowym zapytaniu, w drugim zdaniu dowiadujemy się, że przebadano grób pierwszego papieża w historii. W samym tekście mowa o Piusie I, którego pontyfikat według tradycji miał przypadać… na połowę II wieku. Ale jak to?- zdziwi się odbiorca i dalej przeczyta, że "Szczątki prawdopodobnie pierwszego oficjalnego papieża były wielkim naukowym odkryciem". Dlaczego akurat Pius miałby zostać uznany za "pierwszego oficjalnego papieża"? Sądzę, że za ową konfuzję autora opowiada praźródło rzeczonej, pseudonaukowej plotki, o którym za chwilę. Grób mający według tradycji należeć do św. Piotra (a więc pierwszego papieża) znajduje się na wzgórzu Watykańskim. Wokół niego, ulokowane są pochówki tradycyjnie łączone z niektórymi z pierwszych papieży, w tym właśnie z Piusem I. Z braku zrozumienia, doszło do pomieszania tych faktów i źródło artykułu z portalu Historykon wykoncypowało sobie, że… Pius był pierwszym "oficjalnym" papieżem.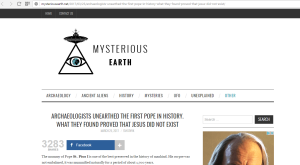 Historykon, kosmiczne źródło i… mumia ze Szwecji
Zanim przejdę do najzabawniejszych części rzekomego odkrycia, pragnę zauważyć, że choć nie jest to w żaden sposób zaznaczone, tekst z portalu Historykon stanowi w zasadzie przekład artykułu wygrzebanego z anglojęzycznej sieci (link). Portal Mysterious Earth, bo o nim mowa, zajmuje się głównie dowodzeniem istnienia kosmitów. W ramach newsów historycznych, głównie promuje Dänikenizm. Już rzucenie okiem na logo Mysterious Earth powinno uczulić redaktora historycznego portalu, że nie mamy raczej do czynienia z poważnym newsem. W stosunku do oryginału, w wersji polskiej zmianie uległa puenta, napisana chyba w celu wyciszenia ewentualnej krytyki ze strony wierzących czytelników. Nie wyśledziłem jeszcze źródła, na którym opierało się Mysterious Earth. Na istnienie takiego, wskazywałoby wspomniane wyżej nieporozumienie wokół tytułu Piusa. Przejdźmy jednak do samego znaleziska:
W 1789 roku doszło do rozbiórki katedry i otwarcia trumny z Piusem I, ku zaskoczeniu wszystkich mumia była w idealnym stanie. Jego zwłoki zostały przeniesione do innej kaplicy i nie były dokładnie badane do 2010 roku(…) Pius I chorował na wiele chorób sercowo-naczyniowych ale również na cukrzycę, gruźlicę, próchnicę czy kamienie żółciowe. Te wszystkie choroby zostały zdiagnozowane, ponieważ organy wewnętrzne również uległy bardzo dobremu zakonserwowaniu.
Bardzo smakowity opis zbadanej mumii. Szkoda tylko, że (jak już zresztą wskazali komentatorzy na portalu MysteriousEarth) zdjęcie mumii Piusa I w istocie przedstawia zwłoki… XVII-wiecznego biskupa Lundu, Pedera Windstrupa. Co więcej, również rezultaty sekcji musiały zostać (przynajmniej częściowo) skopiowane z jakiegoś artykułu poświęconego niedawnym badaniom zwłok szwedzkiego biskupa. Dla porównania, tekst o Windstupie zamieszczony przez Polska The Times (link).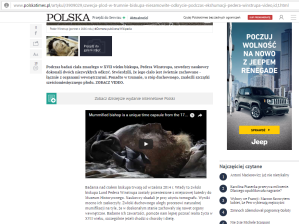 "Mumifikacja" zwłok szwedzkiego biskupa nie powinna dziwić. W XVII wieku, wśród wiernych kościołów reformowanych, istniała moda na balsamowanie zwłok czy "egipskie" w stylu nagrobki. Również w Rzeczpospolitej! Ciekawskim, polecam świetny artykuł prof. Joachima Śliwy o (zaginionej) rzekomej mumii Władysława Sicińskiego, słynnego posła z Upity, który jako pierwszy w pojedynkę zerwał obrady sejmu (link).
Rękopis znaleziony na portalu Historykon
Przejdźmy więc do największej rewelacji:
Najbardziej zaskakującym znaleziskiem nie jest sama mumia Piusa I, a dokumenty znalezione wewnątrz trumny. Dokumenty zawierają wiele różnych wersji o rzekomym życiu Jezusa z Nazaretu. Odkrycie sugeruje, że starsi przywódcy kościoła katolickiego ukrywali dowody, które potwierdzają fakt, że historia Mesjasza, Jezusa z Nazaretu została wymyślona na potrzeby pewnych postanowień kościoła. Wśród dokumentów można znaleźć historię setek innych proroków uderzająco podobnych do historii Jezusa z Nazaretu. Do najbardziej rozpoznawalnych należeliby np. Dionizos, Mitra, Kriszna czy Horus. Naukowcy twierdzą, że nie ma żadnych dowodów na istnienie Syna Bożego, a sama kreacja Jezusa to najprawdopodobniej pomieszanie historii wielu innych bóstw innych religii stworzone na potrzeby instytucji kościoła wieki temu.
Tak niezwykłe znalezisko na pewno doczekałoby się szerokiej dyskusji w świecie nauki. Oczekiwałbym poważnych analiz papirologicznych, językoznawczych i historycznych, a wreszcie wydania krytycznego źródła. Tymczasem nie pojawiły się żadne konkretne informacje na ten temat, o odkryciu dokonanym rzekomo w 2010 r. Żadnego draftu artykułu, ani nawet wystąpienia na konferencji. Co więcej, zarówno na portalu Historykon, jak i na Mysterious Earth owi mniemani odkrywcy pozostają anonimowi! News o rzekomym odkryciu miał za zadanie odgrzać teorię mitu Jezusa, popularną w XIX wieku, a w mniej lub bardziej naukowej formie, pojawiającą się po dziś dzień. Dodajmy, że zdjęcie "odkrytych" dokumentów z różnymi wersjami życia Jezusa, zamieszczone przez Mysterious Earth, również jest nieprawdziwe. W rzeczywistości przedstawia jeden z kodeksów z Qumran (co również wykazali internetowi komentatorzy).

Pozostaje ze smutkiem zauważyć, że proste metody weryfikacji informacji oraz odrobina krytycyzmu, którymi wykazali się zwykli internauci, okazują się być obce redaktorowi portalu poświęconego Historii…